Global Startup Competition – Apply to Pitch!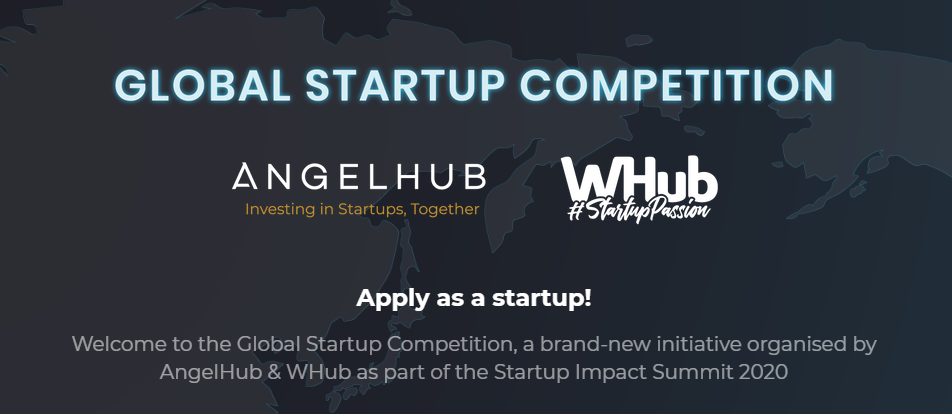 What is the Global Startup Competition?
The Global Startup Competition is a brand-new competition organised by AngelHub & WHub as part of the Startup Impact Summit 2020, one day of the StartmeupHK Festival week. The initiative aims to find the best tech startups around the globe that are scaling in Asia and to unleash their full potential by providing them with visibility, network, and funding needed to grow.
The Global Startup Competition runs a series of 10 startup competitions across EMEA and Asia and brings together prominent startups, investors and corporates from each of these regions.
All local winners will then be invited to compete and showcase themselves at a Grand Finale event in Hong Kong, standing in front of over 3,000+ attendees and key stakeholders of the innovation and tech ecosystem.
The regional winners will be invited to come to The Global Startup Competition Grand Finale at SIS20 in Hong Kong to seize the opportunity to win up to US$1,000,000 in equity investment* and up to US$10,000 in cash prize money. All regional winners will receive a fixed cash prize to cover travel costs (amount varies by region) **.
*The winners must comply with the terms & conditions established by AngelHub, as well as its disclaimers. Prizes will be awarded in the form of cash investment in exchange for equity shares in the startup through AngelHub's investment platform.
** Regional winners from Europe (Berlin, London, Paris) and Israel (Tel Aviv) will receive a travel budget of 1,500 USD/team. Regional winners from Asia will receive a travel budget of 600 USD/team.
Why should you participate ?