AWA WISE Career Transition Event "Reinvent Yourself and Switch Careers"
15.11.2019, 4:00 pm

-

8:30 pm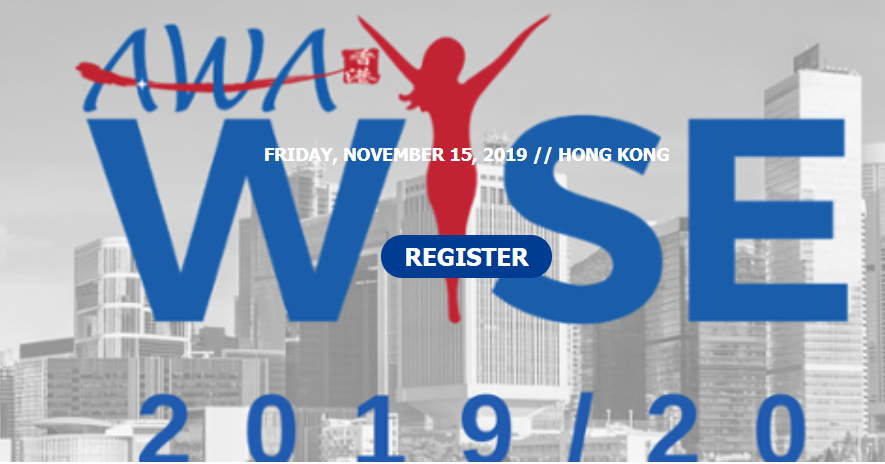 The AWA WISE Career Transition Event, organised 'by women, for women', is a curated mix of workshops, panel discussions, and networking session. It aims at inspiring and equipping women looking for a career change.
The AWA WISE event features a panel discussion moderated by Karen Leigh, Editor at Bloomberg News, on women who have reinvented themselves successfully. They will share their real-life stories, experiences and challenges on their way toward a new career.
– Alisa Camplin, Olympic Champion, Mindset Resilience Performance Consultant
– Laetitia Mergui, Managing Director, APAC of CHLOÉ
– Bhakti Mathur, SCMP Contributor and Children's Book Author
– Ada Yip, CEO of URBAN SPRINGS
– Joséphine Paris, Executive & Business Coach, COACHME
To help women reinvent themselves, the AWA WISE Career Transition Event offers hands-on workshops that will retool women with skills to help build a strong resume, redefine their mindset and harness social media to promote their venture :
– Building your personal brand on LinkedIn by Tingi Ko, Co-founder of Connected Women Hong Kong
– To reinvent or to adapt – Overcoming the challenges we face when we change, by Nerice Gietel, Director of Back to work Hong Kong
– Mastering a supportive mindset for change, by Birgit Rappold, Executive coach and wellbeing specialist at Rappstone Coaching
The networking session offers an opportunity for women who are starting anew, looking to connect with other organisations and network with like-minded people.
For more information, please click HERE.