HKPC SME One Fund Fair 2019 – A Funding Fair to Support Local Startups & SMEs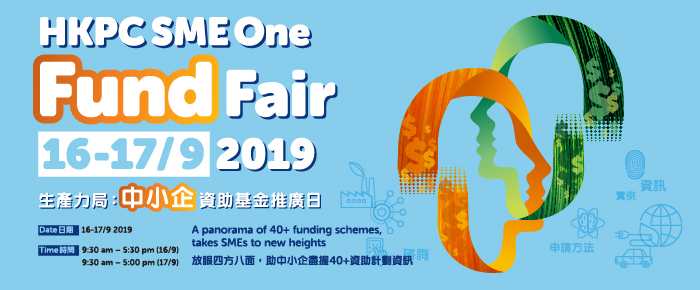 Are you looking for resources and support to your amazing business ideas? Do you plan to promote business sales, especially in the ASEAN and Mainland China markets? Are you looking for ways to develop talents in areas of advanced technologies?
HKPC SME One Fund Fair 2019 will be your destination. To be held on 16 & 17 September 2019 at Hong Kong Productivity Council, you will be able to see an ensemble of 40+ funding schemes and support programmes eligible to local Startups and SMEs. This one stop platform will provide information, best practice and success case sharing, as well as on site consultancy.
Registration is free and open to all. Come join us!
Date & Time:
16 Sept 2019 (Mon), 09:30 – 17:30
17 Sept 2019 (Tue), 09:30 – 17:00
Medium: Cantonese and English
For more information, please click HERE.