Fintech startup leverages technologies to make wealth building smarter, simpler and more affordable.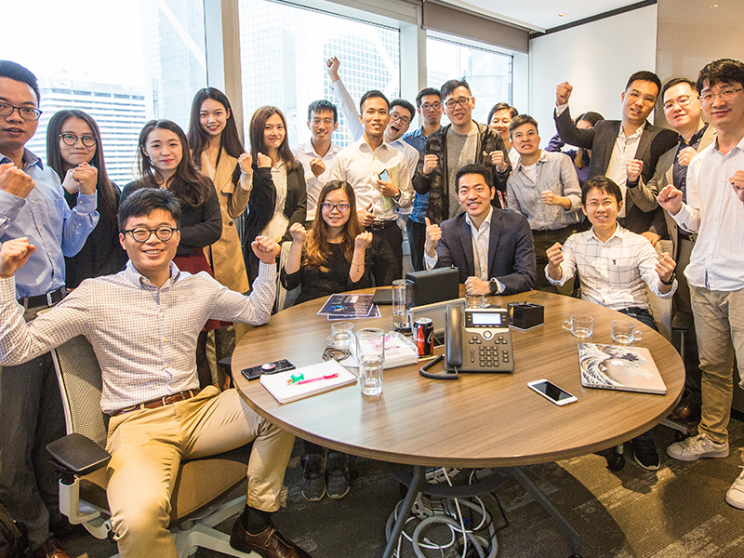 1. Please briefly describe the background of your company, its origin and development milestones.
AQUMON is a startup in the FinTech space. We aim to make sophisticated investment advice cost-effective, transparent and accessible to both institutional and retail markets, via the adoption of scalable technology platforms and automated investment algorithms. Since our launch, we have partnered with 50+ financial institutions, including ChinaAMC, Bank of China International (BOCI) and BOC HK Asset Management. Our investors include Alibaba Entrepreneurs Fund, BOCI, and HKUST.
AQUMON is one of the first robo-advisors in Hong Kong to be fully licensed by the Securities and Futures Commission of Hong Kong and the U.S. Securities and Exchange Commission.
2. Why did the company decide to set up an office in Hong Kong? What do you think about the startup ecosystem in Hong Kong?
With a strong research-orientated DNA, AQUMON was incubated at Hong Kong University of Science and Technology (HKUST) in early 2016. We subsequently also launched an A.I. laboratory in collaboration with HKUST's Mathematics Department. Aiming to serve Hong Kong investors and institutional clients, we set up our first office in Hong Kong, and subsequently opened branches in Shenzhen and Singapore.
We believe that the startup ecosystem in Hong Kong is robust and supportive, though some hurdles do exist, including the utilization of the market in Mainland China, the compliance requirement in different environments, as well as the distinctive client base and preferences.
3. Could you share with us the strategic plans of your company in Hong Kong and in the region? What is your company's value proposition in the market?
AQUMON is a leading player in Hong Kong's robo-advisor space. We strive to democratize finance via the combination of automated algorithms and a scalable technology platform. AQUMON uses both traditional financial engineering techniques and leading A.I. techniques, to provide wealth management services to those who have been previously neglected.
AQUMON operates in three business lines, and Robo Advisory contributes to around 75% of revenue in the past 3 years:
The direct offering of robo-advisor products to retail investors in Hong Kong and Mainland China.
A.I. investment solution: AQUMON offers a wide variety of absolute return investment algorithms.
Robo-advisory solution provider: AQUMON offers white-label solutions to financial institutions in Mainland and Hong Kong.
4. Could you share with us the highs and lows of your entrepreneurship journey? What does it take for a startup to be successful in Hong Kong?
Since the inception of our company in 2016, we spent the first two years in building our algorithm library, our R&D and I.T. team, who originate and manage the solutions to both retail and institutional clients. For marketing and retail business expansion, especially with many retail clients who unfamiliar with our offerings, we conducted many series of promotional events to attract and retain clients in the first two years. At the same time, our B2B business line has been expanding steadily, which brought stable revenue growth, and solid long-term partnerships with some of the most sophisticated institutions in both Mainland China, Hong Kong, and Singapore.
5. Do you have any advice for others who are looking to launch a startup in Hong Kong?
We believe the winning formula is a competitive advantage in technology, the potential market opportunities in Asia and the availability of talent. For those who wish to launch a startup in Hong Kong, we advise in recruiting talent from various backgrounds and experiences to spur creative thinking and problem solving. Furthermore, take advantage of hiring within Hong Kong's robust academic and technology communities. Given the size of Hong Kong's market, we would also recommend that startup entrepreneurs expand into other markets in the Asia Pacific region given the enormous potential of the region.
6. In what ways has InvestHK assisted your company in its setup and development? In your opinion, why are our services provided important for companies like yours?
Our track record reflects our experiences in working with some sophisticated institutions in Hong Kong, as well as the industry's recognition of our algorithm and I.T. capacities. We hope to get connected with potential institutional clients and engage in the startup community via InvestHK's events.