Hong Kong's
Startup Ecosystem
EMBRACING CHALLENGES WITH RESILIENCE AND ADAPTABILITY
Despite the economic challenges brought about by the pandemic, social unrest and trade wars, Hong Kong's startup ecosystem has demonstrated remarkable resilience. InvestHK's 2020 startup ecosystem survey reports a total of 3,360 startups (an increase of 6% from last year) employing 10,688 employees across 116 co-work spaces, incubators and accelerators. As one of the world's financial centres, Hong Kong attracts talent from around the globe, and this diversity is reflected in the city's startup ecosystem too. A quarter of the startup founders in the city has their country of origin outside Hong Kong. This international outlook, coupled with local talent with their language capabilities and market knowledge, has created strong startups, with the city boasting eight unicorns.
A DIVERSE GROUP OF FUNDERS
Major origin countries/ territories of non-local founders
While 69% of the startup founders who provided origin information were Hong Kong locals, and 5% were Hong Kong returnees, 26% of the startup founders were non-locals, from countries/territories as diverse as Mainland China, United Kingdom, United States, Australia, France and Canada among others.
Startups access a wide range of industries
Hong Kong's appeal as a startup hub extends to a wide variety of industries. In 2020, fintech, e-commerce/supply chain management/ logistics technology and professional or consultancy services had the largest numbers of startups.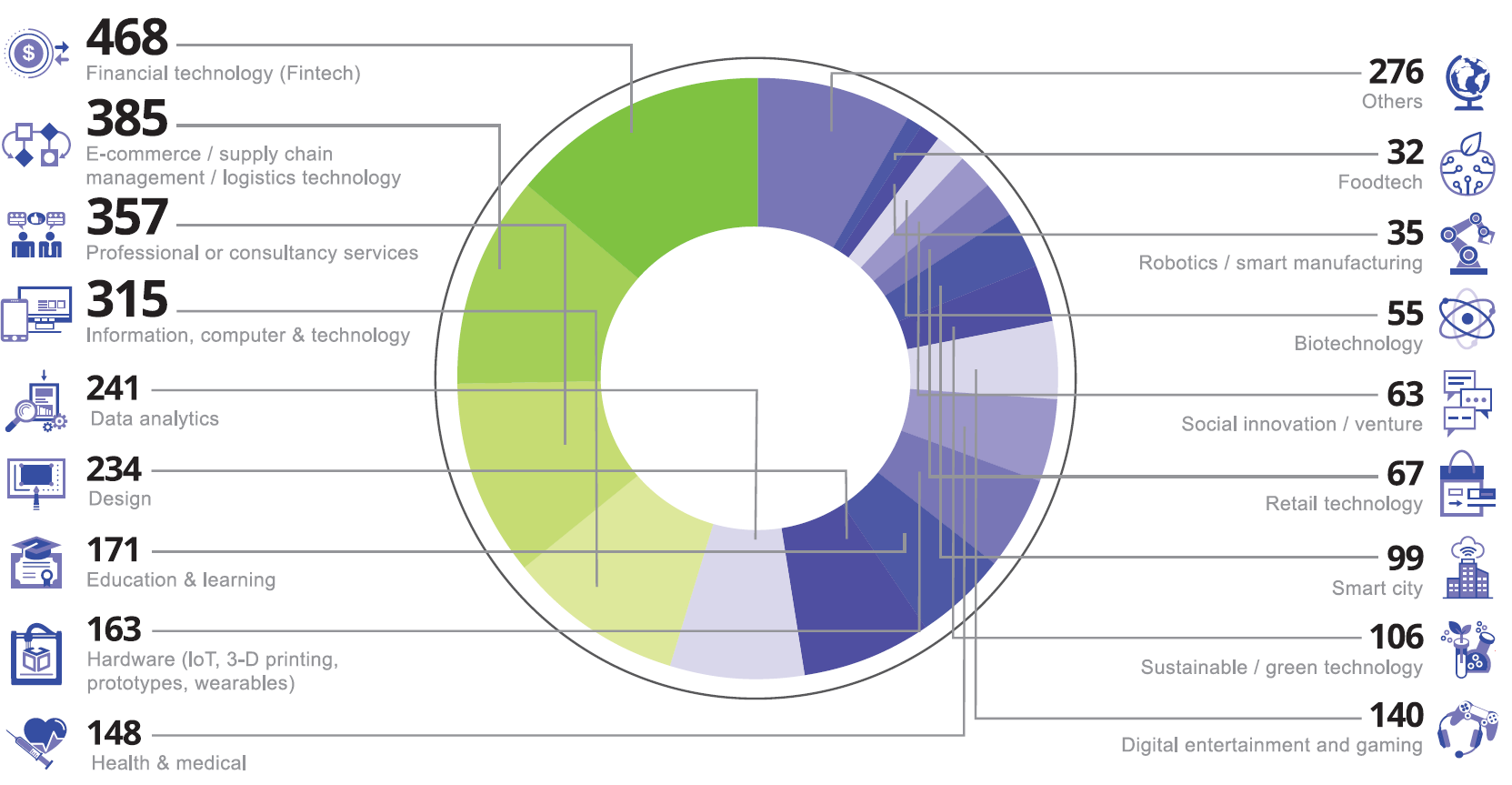 The above information is based on an on line survey conducted by lnvestHK with results finalised in November 2020. The survey was conducted in collaboration with a total of 64 operators of co-work spaces, incubators and accelerators covering 116 locations. Information is based on answers from respondents who provided data for the questions.
Disclaimer: The information contained in this publication is for general reference only. While every effort has been made to keep information current and accurate, lnvestHK does not accept any responsibility whatsoever in respect of such information. There is no implied endorsement of any material or recommendation of a company or service provider over another.