A Primer to NFTs + Make Your Own NFT
26/05/2021 7:00pm - 8:30pm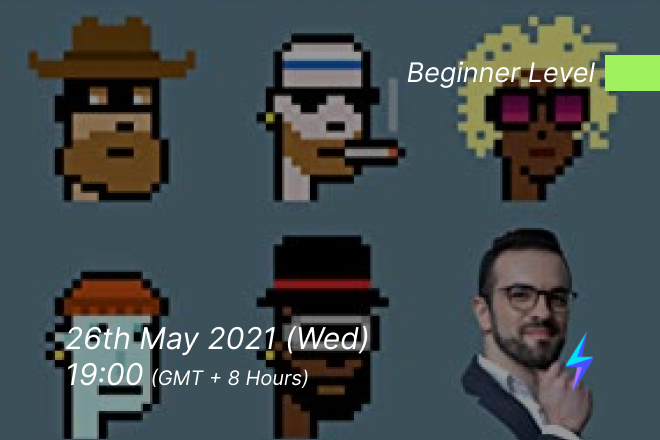 In this class we will guide you step by step and show you how easy it is to buy, sell and create an NFT. Anybody can create an NFT, but there are some important steps, and you need to understand the technologies behind it, its features and constraints.
I will guide you through the steps and good practices to create an NFT so that you can be confident that you also do the right steps when you create your first NFT. You don't need any coding skills to create an NFT, but you need to follow some steps, have a wallet, buy some crypto for gas and sign the transaction.
Join this course and dive deep into:
– What an NFT is
– The history of NFTs
– Why we need blockchain
– Blockchain protocols behind NFTs
– What Ethereum is
– What smart contracts are and the ERC-721 Token Standard
– NFT for real-world assets
– NFT investing and marketplaces
– Blockchain wallets and Metamask
– NFT Storage
– Minting NFTs
– NFT Security
Who should join?
– Curious individuals who are interested in learning the mechanisms of the blockchain technology
– People who are thinking about adding crypto and NFTs into their investment portfolio
– Professionals who works in the Fintech industries
– Persons who are making a career shift into the Fintech industries
Learn Fintech with Henrique Centieiro – Senior Blockchain Project Manager for a large financial institution. Best selling author of the book – Unblockchain: A Brain-Friendly Guide for Blockchain, from Bitcoin to Ethereum Deep-Dive, and his most recent one on NFTs – The Non-Fungible Booklet. He has 10+ years of experience with cryptocurrencies and over four years of teaching experience at HKU Space on Fintech and Blockchain.
Disclosure: views expressed are purely personal and do not reflect any organisation's views or thoughts the instructor/speaker of this class may be affiliated or associated with. This is NOT financial advice and I am not recommending anything. This class/workshop is only for educational purposes.
Language: English
For more information, please click HERE.