[Ask me anything: Tips for Y Combinator Application on 11 Sept | 9:30am HKT]
11/09/2020 9:30am - 10:30am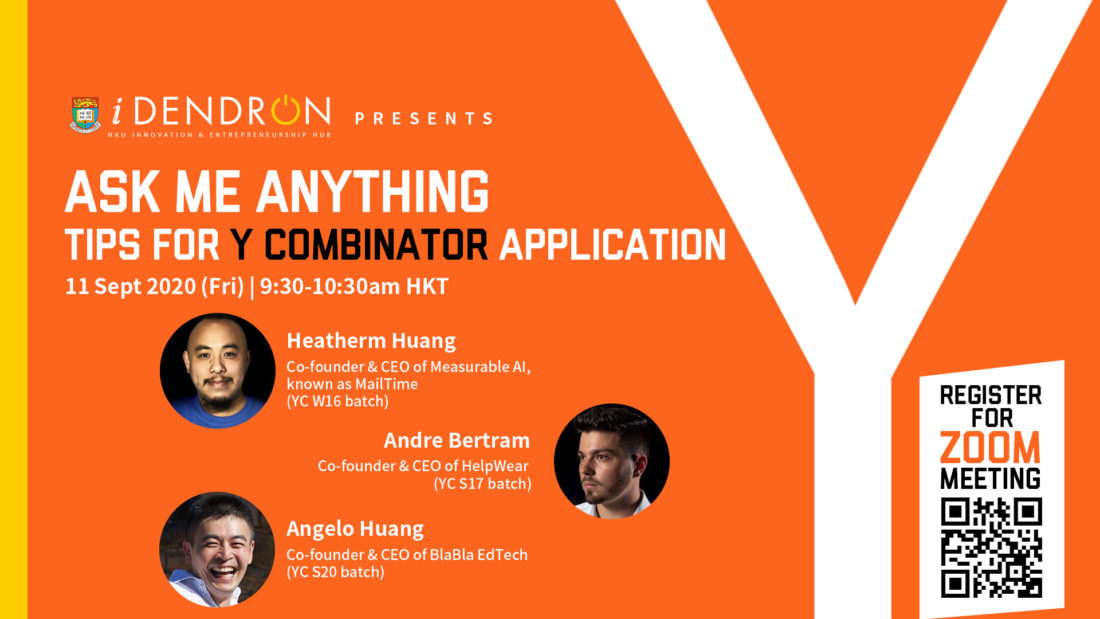 Y Combinator (YC) is one of the best accelerators in the world, with alumni including Airbnb, Dropbox, Reddit, 9GAG etc.. The deadline for YC applications of the upcoming Winter 2021 batch is 8pm PT 23 Sept 2020.
iDendron has invited YC alumni to share their experience and tips for applying the YC. Due to the COVID-19 situation, the Winter 2021 batch may be fully or partially remote, and YC grows its batch larger and larger. This might be the best chance to apply and get connected with the founders and VCs from the world.
Date: 11 Sept 2020
Time: 9:30am – 10:30am HKT
Format: Zoom meeting (prior registration is required)
Speakers:
Heatherm Huang, Co-founder & CEO of Measurable AI, known as MailTime (YC W16 batch)
Andre Bertram, Co-founder & CEO of HelpWear (YC S17 batch)
Angelo Huang, Co-founder & CEO of BlaBla EdTech (YC S20 batch)
Register for ZOOM meeting: https://bit.ly/3i6Pvb7
For more information, please click HERE.