"Bring Innovation and Technology's Strengths into Full Play for integration into the National Development" Sharing Session
28/06/2022 3:00pm - 4:30pm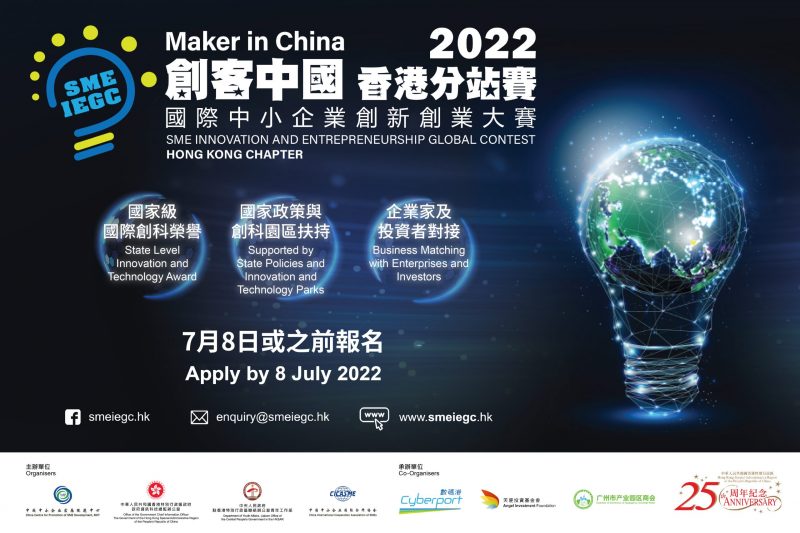 "Maker in China" SME Innovation and Entrepreneurship Global Contest 2022 – Hong Kong Chapter", jointly-organised by the China Centre for Promotion of SME Development of MIIT, Office of the Government Chief Information Officer, the Department of Youth Affairs of LOCPG and China International Cooperation Association of SMEs, and co-organised by Cyberport, Angel Investment Foundation and The Chamber of Commerce of Guangzhou Industrial Parks, has opened call for entries from today until 8 July. The Hong Kong Chapter is recruiting startups and enterprises from various innovation and technology categories to submit their projects.
Join us at the "Bring Innovation and Technology's Strengths into Full Play for integration into the National Development" Sharing Session to learn more about the goal of the contest. The webinar will feature Prof. Xiao-li Ding, Director of Research Institute for Land and Space of the Hong Kong Polytechnic University, Mr. Jack Yuan, 深圳市科技專家庫審核專家, and Prof. Torin Fung, Chairman of the Hong Kong Association for the Advancement of Science and Technology, to share how to bring the strengths of Hong Kong's innovation and technology to integrate into the country's modernization process and play a more active role in the development of Hong Kong's innovation and technology.
For more information and to register, please visit HERE.