CITAC x Israel Construction Technology Conference and B2B Session
09/11/2020 2:00pm - 6:00pm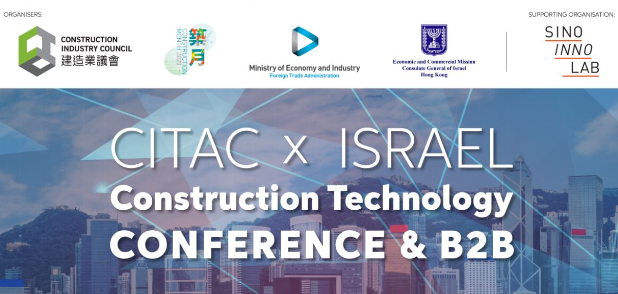 Co-organised by CITAC and the Consulate General of Israel in Hong Kong, the conference aims at connecting Israel companies with cutting edge innovations in the construction tech domain with industry stakeholders in Hong Kong. Developers and other project clients, consultants, contractors & subcontractors, innovation leaders, investors, venture capitals and relevant technology distributors are all welcome to take part in this conference. Let's join the conference to hear first-hand from the Israel innovative companies.
Rundown:
2:00 PM – 2:10 PM (HKT) – Opening remarks by the Organisers
2:10 PM – 2:30 PM (HKT) – Keynote speech by Contech
2:30 PM – 4:00 PM (HKT) – Presentations from Israeli companies with Q&A
4:00 PM – 6:00 PM (HKT) – B2B Session* (20 mins for each meeting; 6 meetings in total)
Intsite – enhancing safety and efficiency of machinery with AI-powered automation
Buildots – 360 cameras with computer vision algorithms to track site activities
Cemento – utilising military technology to enhance efficiency of building projects
Civ Robotics – autonomous marking system for the construction industry
GOARC – connected safety platform that protect workers and assets in real time
Okibo – autonomous wall finish robots for construction sites
Safeguard – AI-powered engine that deliver real-time insights to mitigate safety risk
For more information, please click HERE.