Tech recruitment landscape & outlook during the pandemic
15/10/2020 12:30pm - 1:30pm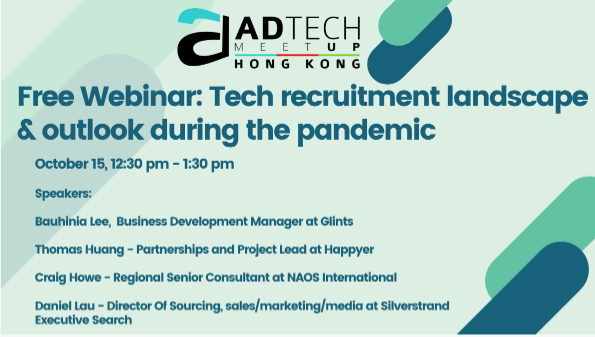 Details
2020 has introduced a new way of working, remote collaboration between professionals has become the new normal. How has the job of recruiters changed during this time? Which are the most wanted profiles during the pandemic? How confident are companies to recruit someone remotely? How would these changes provide opportunities to adtech, digital marketing, and communications talent like yourself? Our panel of experts will try to answer these and more questions during our next event.
Bauhinia Lee from Glints, Thomas Huang from Happyer, Craig Howe from Naos International and Daniel Lau from Silverstrand Executive Search will be joining us and sharing their expertise during the session.
For more info on the recruiting platforms/companies involved in the discussion:
Glints: https://glints.com/
Happyer: https://www.happyer.io/
NAOS International Executive Search : https://www.naos-international.com/
Silverstrand Executive Search: https://silverstrand.com.hk/
For more information, please click HERE.