Impact Startups: Learn about the opportunity to win up to HK$1.4M grant
08/06/2021 2:00pm - 3:30pm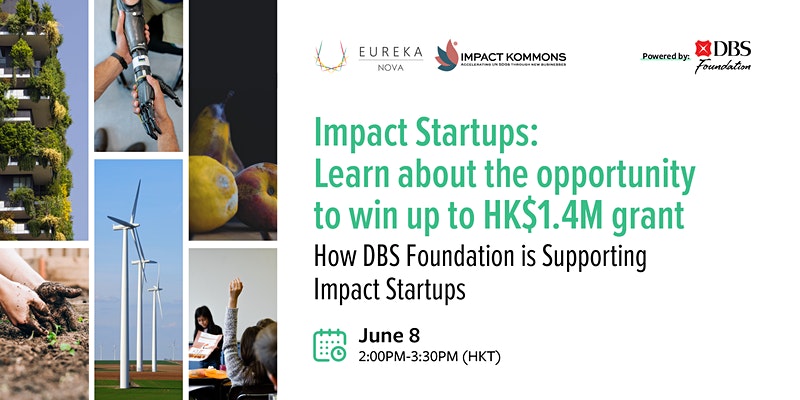 Social impact startups are in and of itself, companies looking to make a change. As these companies grow, it is not just about making money, but seeking out opportunities to help them to grow and thrive.
During this event, we will be sharing about how social impact startups can get a push through corporate programs.
Eureka Nova runs Impact Kommons, where sustainability and social impact startups are able to seek out business integration opportunities and collaborations with New World Group business units and partners. Eureka Nova will be hosting a session with DBS Foundation, an endeavor from DBS Bank to make greater impact in addressing the evolving social and environmental issues by championing social entrepreneurship across Asia.
Startups will get the chance to learn about the DBS Foundation where selected social impact startups have the chance to win a grant up to HK$1.4M and gain access to a regional network.
Join us on June 8 for a chance to learn from this info session.
———————————————————————–
Guest Speaker: Tricia Kwong, VP of Group Strategic Marketing & Communications, DBS Bank (Hong Kong)
Tricia Kwong is the Vice President of DBS Bank (Hong Kong) Limited. She joined the bank as a credit card marketing specialist and was subsequently appointed as the Lead of Corporate Social Responsibility.
DBS is committed to building lasting relationships with customers, and positively impacting communities through supporting social enterprises. Focusing on advocating social innovation in Hong Kong, Tricia is passionate about creating sustainable outcome that brings economic return as well as social value.
Tricia is a seasoned marketer with over a decade of marketing experiences. Prior to DBS, she worked in various international award-winning advertising agencies.
For more information, please click HERE.