Raise, Exit and Pitch During the COVID-19 Pandemic | Google for Startups APAC Partner Content Series
22/10/2020 7:00pm - 8:00pm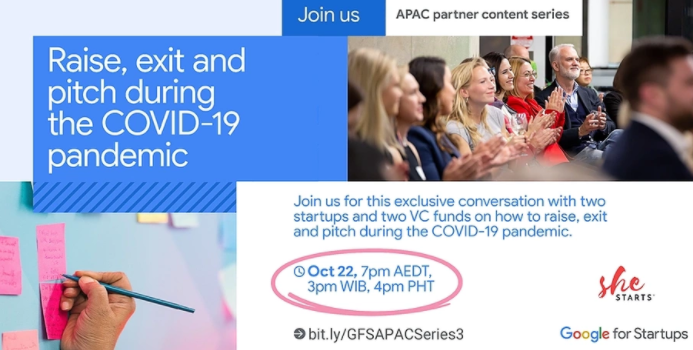 Event description
Join us for this exclusive conversation with two startups and two VC funds on how to Raise, Exit and Pitch During the COVID-19 Pandemic.
The Google for Startups APAC Content Series is a limited series with experts within the Google for Startups partners' networks to provide new knowledge and guidance on the challenges facing startups within the APAC region.
In the third event of this series, SheStarts is bringing together an incredible panel of speakers to share with you their experiences in the current Capital Raising, Exits and Pitching landscape in the APAC:
The panel discussion will incorporate your questions and will be followed by networking in breakout rooms so you can connect with the speakers and other attendees.
You can reach us at hello@shestarts.com if you need any support.

Agenda:
45 min Panel discussion and audience Q&A
15 min Breakout rooms to share insights and network (attendees can choose their own room)
For more information, please click HERE.