Sleek Presents: Effective Leadership in Startups and Small Businesses
23/09/2020 5:00pm - 6:00pm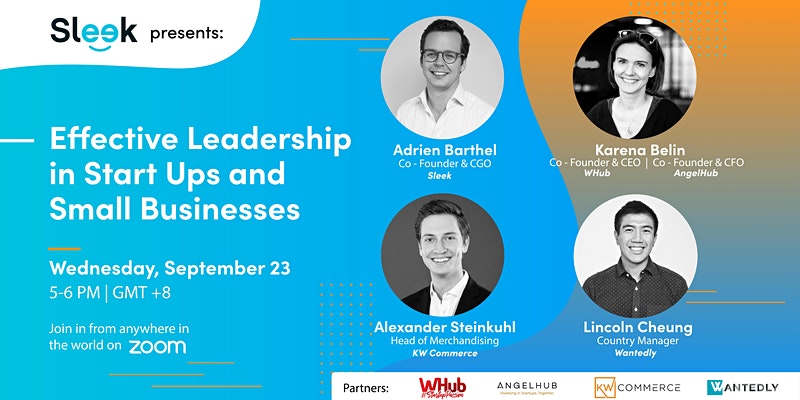 Whether you are interested to start a business or to develop your leadership skill, join Sleek in this webinar to hear from our panel!
It's not enough to simply have a good idea in starting up a business. Resilience, passion, flexibility, and focus are equally important in ensuring the success of your business.
Join us in this interactive webinar that discusses the leadership skills needed for your business to succeed. Further discussions will include key insights from industry leaders with proven successes in their respective fields.
Our speakers will answer questions on topics such as:
How your leadership has to change as your start-up develops and scales
East vs. West – Changes in leadership style and approach
Key insights on people and business management
The different skills needed to manage an international team
Speakers
Adrien Barthel – Co-Founder, Chief Growth Officer at Sleek
Karena Belin – Co-Founder, Chief Operating Officer at Whub
Alexander Steinkuhl – Head of Merchandising at KW Commerce
Moderator
Lincoln Cheung – Country Manager at Wantedly Hong Kong
Run Down
6:00 – 6:10 pm – Welcome & Introductions
6:10 – 6:45 pm – Panel discussion
6:45 – 7:00 pm – Audience questions
*The Zoom link will be sent via email 1 day before the event. Please RSVP here to reserve your spot!
For more information, please click HERE.