WeStart HK x ChatDaddy: 如何用一個WhatsApp Message做到一百萬生意
21/10/2020 3:00pm - 4:00pm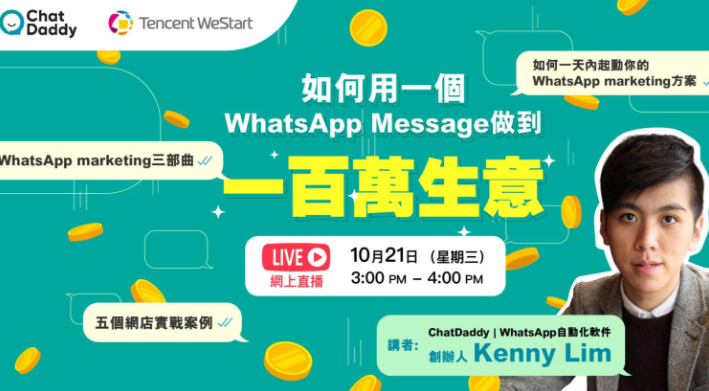 疫情肆虐下,網上營商成為中小企業經營新常態。網店平台五花八門,除了營運外更要妥善推廣。網絡營銷從傳統社交平台進展到日常生活不可或缺的即時通訊軟件,利用香港人最常用的WhatsApp可帶來甚麼商機?受到HSBC VisionGo電商成長學院邀請,WeStart HK聯同社群成員ChatDaddy,將與你分享中小企業商家運用網店WhatsApp自動化軟件的要訣、WhatsApp的營商技巧和實用工具。想了解聊天機械人或使用WhatsApp營銷的中小企業及營銷人員千萬不要錯過!
內容重點:
– WhatsApp marketing三部曲
– 五個網店實戰案例
– 如何一天內起動你的WhatsApp marketing方案
講者:ChatDaddy創辦人 Kenny Lim
Kenny自2016起專注營銷軟件開發,所研發的Facebook 機械人累積服務超過3,000間來自香港,台灣,馬來西亞的中小企業,客戶包括Carrefour、Logitech、百老匯、Beauskin、彩豐行等。他於2018年創立ChatDaddy品牌,帶領團隊研發WhatsApp自動化軟件ChatDaddy,及EasySend WhatsApp自動出單機器人,是市場上唯一能打通所有網店的WhatsApp工具。
In the post-pandemic era, online business has become the New Normal. With numerous e-stores launched in the market daily, it is important to leverage effective tools to support operations growth and promotion initiatives. Digital marketing has also evolved from the conventional social media channels to instant messaging apps.
In collaboration with E-commerce Academy by HSBC VisionGo, WeStart HK is joining ChatDaddy, our community member, to discuss the opportunities with WhatsApp, how SME merchants can leverage chat automation software, and useful tools for Hong Kong's most popular messaging app. SMEs and marketers looking into chatbot and WhatsApp marketing should not miss this webinar!
Key takeaways:
– The 3 steps to WhatsApp marketing
– 5 use cases sharing
– How to kick start your WhatsApp marketing plan in 1 day
For more information, please click HERE.