In consideration of the outbreak of the novel coronavirus, the organiser informed that the deadline of submission of Asia Smart App Awards(ASA) 2020, originally scheduled on 6 March 2020, will be extended until further notice. The following activities including Asia Smart App Workshops, Press Conference, Assessments and Award Presentation Ceremony will be rescheduled. Latest information of ASA2020 can be viewed at : https://contest2020.bestasiaapp.hk/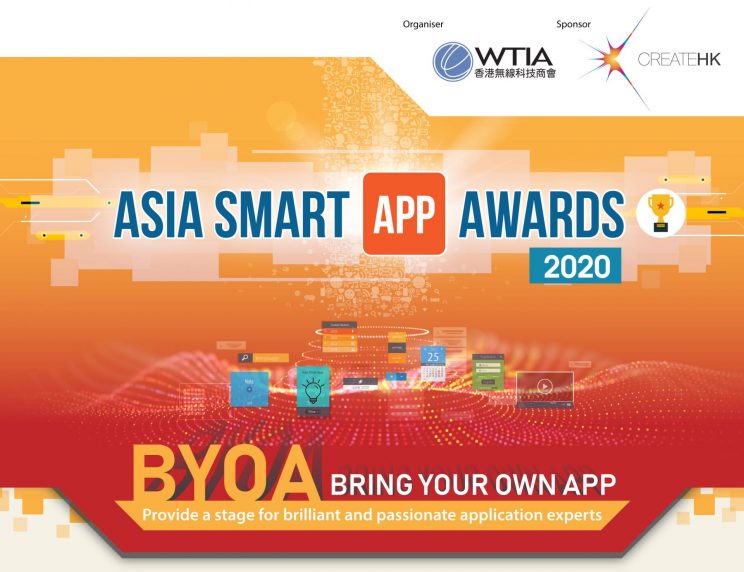 The Hong Kong Wireless Technology Industry Association (WTIA), follows up on the fruitful Asia Smart Apps Contests, organises the Asia Smart App Awards 2020, which is the 7th edition of the award scheme, under the sponsorship of Create Hong Kong of the Government of the Hong Kong Special Administrative Region. By uniting 15 co-coordinators (WTIA inclusive) from Cambodia (New Participant), Israel, India (New Participant), Indonesia, Japan, Korea, The Mainland, Malaysia, Myanmar, Philippines, Singapore, Sri Lanka, Taiwan, Thailand and Vietnam, the Asia Smart App Awards 2020 provides a stage for top brilliant application experts in Asia to meet in Hong Kong, and share, team up and gain from one another in the field of smart applications.
We cordially invite you, application developers brimmed with wisdom and talents to compete with your counterparts in inventive smart applications of ALL types from every corner of Asia!
Learn More, or Apply Now!
DEADLINE: 6 March, 2020