2nd SFA Seminar: New Era of E-Commerce|Marketing Automation & Smart Logistics Cooperation
02/02/2023 3:00pm - 5:00pm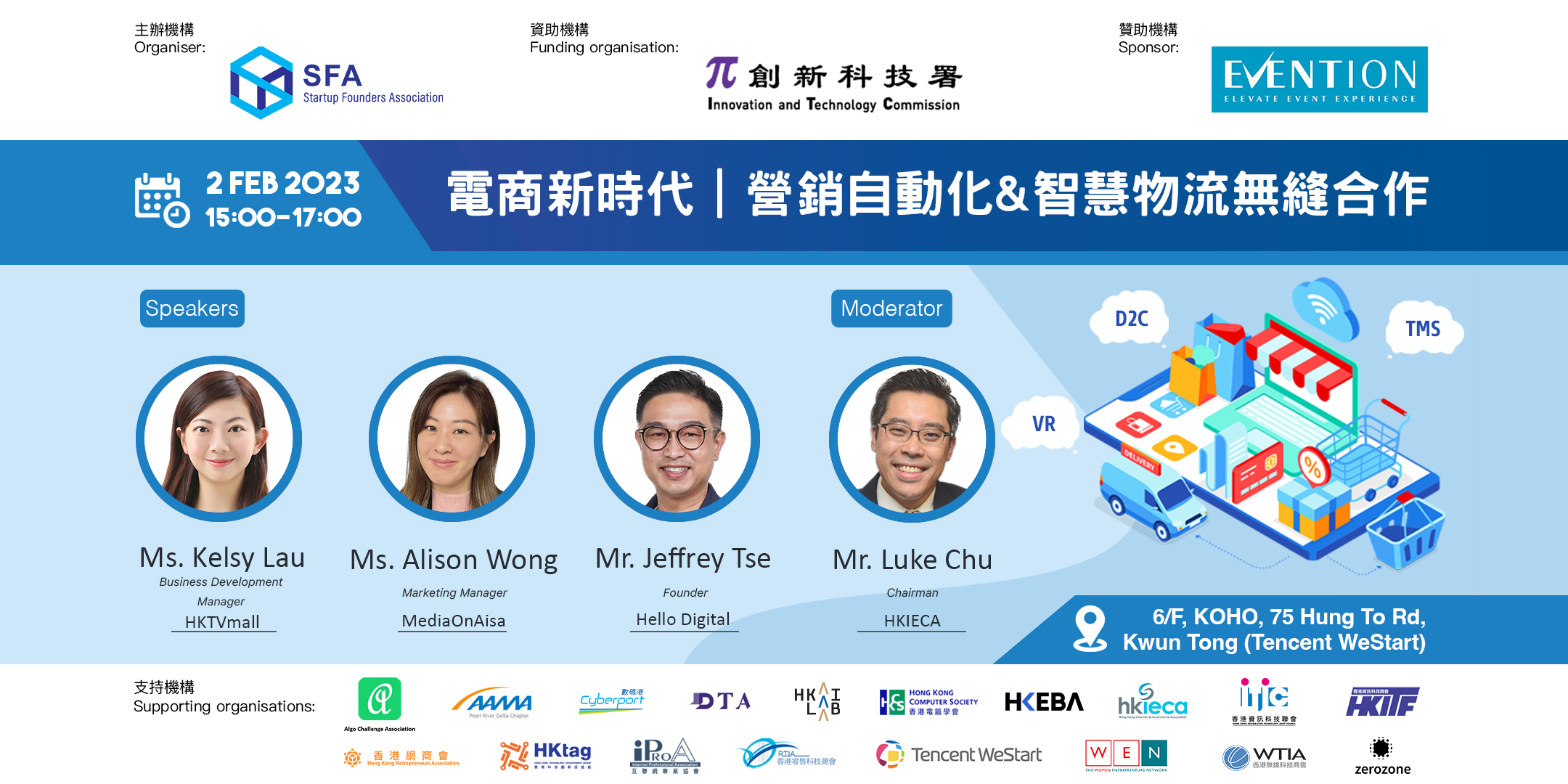 How to open an online store or make breakthroughs in e-commerce and deal with a large number of orders😵‍💫? How to target customers for sales? Can D2C (data-driven marketing) get rid of the dependence on dealers? Whether you are a novice or experienced, it is essential to understand the latest technology to gain a firm foothold in the ever-changing e-commerce world👣.
E-commerce = Online store❓In fact, it is necessary to cooperate with marketing and customer service to ensure that you can provide high-quality online shopping and make your store the first choice for customers❤️ With the rise of new technologies, e-commerce has developed such as immersive technology (AI&VR) /AR) shopping experience, coupled with the emerging D2C, as a sales model that directly contacts customers, it can grasp user needs through all channels and provide personalized products and services.
The development of e-commerce cannot be achieved in one step. Understanding how to apply technology to product production, procurement, logistics, and sales is the KEY🌟!  Using smart logistics such as 🤖️artificial intelligence can optimize the freight process and save costs. Combining data for digital marketing to accurately contact potential customers, and build brand loyalty is important as well.
💡Three experts will discuss the theme "Marketing Automation & Smart Logistics Cooperation", the content will focus on the technologies required for e-commerce& logistics transformation, and how to fully utilize the advantages of digital marketing to expand the business. ️If you are interested, don't miss the opportunity✨!
———————————————–
Speakers:
Alison Wong – Marketing Manager of  Mediaon Limited
Jeffrey Tse – Founder of Hello Digital Limited
Kelsy Lau  – Business Development Manager of Hong Kong Technology Venture Company Limited
Moderator:
Luke Chu – Chairman of HKIECA
For more information and to register, please visit HERE