Tech to Connect Series | 5G Empowering: Autonomous Driving and Smart Transportation System
13/01/2022 3:00pm - 5:00pm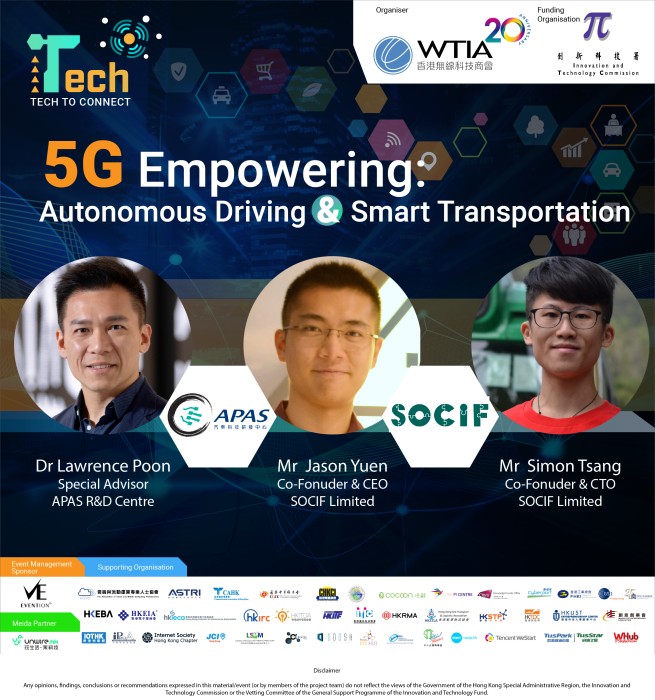 Hong Kong Wireless Technology Industry Association x Automotive Platforms and Application Systems R&D Centre x SOCIF
Wonder how the 5G could help to boost the development of the local Transportation Industry and Logistic Industry? This workshop will explore the pain point of the current Traffic System and discuss how 5G and the usage of intelligent data could excel it into a SMART transportation system. Moreover, ICT experts will discuss the strength and limitations of the latest autonomous technologies and how they would benefit the automotive industry.
Keynote Speakers:
Topic: The Accelerating of 5G Era: Intelligent Traffic System in Autonomous Technologies
– Dr Lawrence Poon, Smart City Division, General Manager of Hong Kong Productivity Council and Special Advisor of APAS R&D Centre
Topic: Innovations and Opportunities in Smart Transport: Now and Future
– Mr Yuen Lok Hanng, Jason, Co-Founder & CEO, SOCIF LIMITED
– Mr Tsang Pak Kin, Simon, Co-Founder & CTO, SOCIF LIMITED
Please contact Kane at kanechu@hkwtia.org or 6623 6347 for more details.
For registration, please visit HERE.