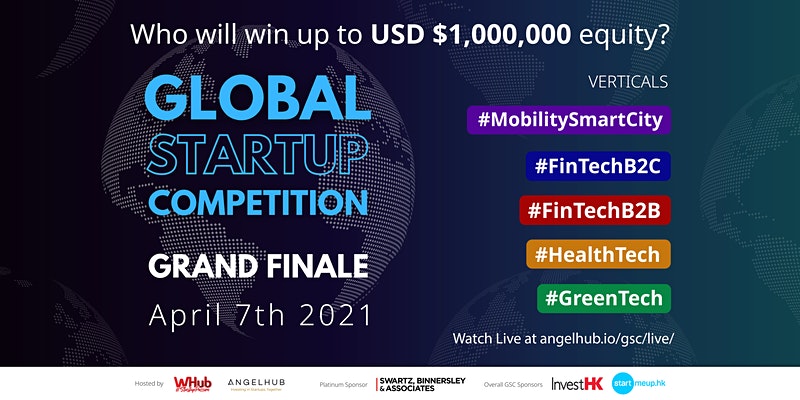 Global Startup Competition is back to find the best tech startups around the globe scaling in Asia and to unleash their full potential.
Global Startup Competition 2021
Startups to apply / pitch at the Global Startup Competition, use the following link: https://angelhub.io/gsc/apply
Why you should apply?
Funding – Pitch your business to compete for up to US$10,000 cash prize and US$1,000,000 equity investment***.
Resources – Get empowered with corporate partnerships, networking events across our network in Asia and EMEA as well as a Softlanding package into the Greater Bay Area.
Exposure – Gain international exposure in front of a selected audience of investors, media partners, and industry experts.
Calling promising startups in:
FinTech B2C
FinTech B2B
Mobility & Smart City
GreenTech
HealthTech
Learn more about our selection criteria and process: https://angelhub.io/gsc/
Join us for the Global Startup Competition 2021 Grand Finale on 7 April 2021
This is a great opportunity for you to get inspired by startups across the globe, popular media outlets, venture capital investors, and top-level partners from all around the world.
For more information about the event, please click HERE.