Hong Kong's supportive startup ecosystem and unparalleled access to GBA market enables Greater Bay Biotechnology to grow at impressive rate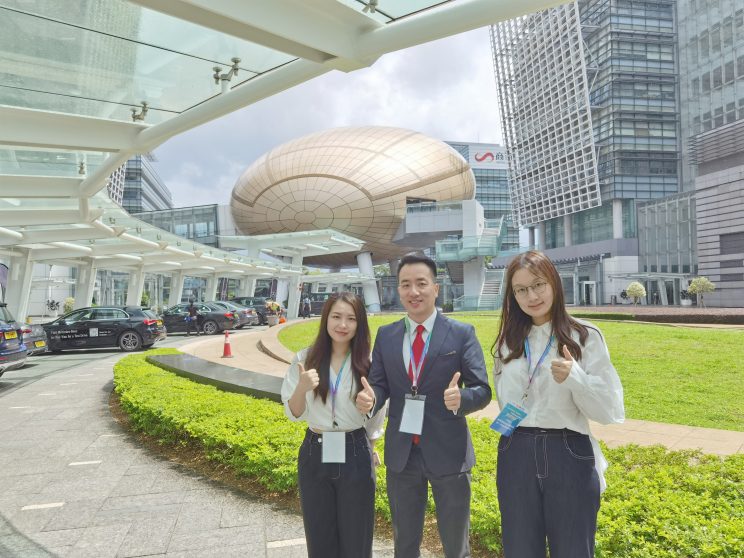 In 2021, a partnership between Colin Ng (Master student, Department of Biomedical Sciences, CityU) and Dr Chenjie Xu (Associate Professor, Department of Biomedical Engineering, CityU), spurred the creation of startup company, Greater Bay Biotechnology (GBB).  Their vision is to develop user friendly technologies for the delivery of emerging biologics – drugs and cells that have wide applications, including in the treatment of medical conditions such as diabetes, cancer, infectious diseases and skin conditions.
In less than a year, GBB has gained high recognition and won many local and international awards for their innovative biomedical and healthcare technology, resulting in generous support and funding from schemes including the CityU HK Tech 300 Seed and Angel Funds, the Hong Kong Science and Technology Parks Corporation IDEATION Programme, and the HKSARG Innovation and Technology Bureau's Technology Startup Support Scheme for Universities.  As of June 2022, Ng and Xu have grown GBB to close to 20 people and are on the right track to expand in Hong Kong and across other key markets in the Guangdong-Hong Kong-Macao Greater Bay Area (GBA), where countless diabetics may benefit from the use of cryomicroneedles (CMNs) to combat the disease in a safe and pain free manner.
A challenge presents an opportunity for business growth in the GBA market
COVID-19 presented an unprecedented challenge for GBB, but the company was able to work the situation to its advantage.  Before the pandemic's fifth wave in Hong Kong, the startup had planned to have the R&D experiments carried out via CityU's laboratory.  Unfortunately, many individuals at the university were infected by COVID-19, prompting a change in plans.
As a contingency measure, GBB arranged for the experiments to be carried out in Guangzhou instead.  Although the cost of doing so was greater, it enabled the company to meet potential business partners in the market, make new connections, and minimised delays to the actual testing and product development process.
Hong Kong's supportive startup environment opens doors to new markets
GBB's main innovation focuses on CMN technology to transdermally deliver insulin to diabetics in a pain free and minimally invasive manner.  The frozen 'microneedles' effectively melt inside the skin, forgoing the need to use sharp hypodermic needles and avoiding the associated pain points whilst providing the same drug to the patient in a transdermal fashion.
China has the largest population of diabetic patients in the world, making it a priority market for GBB to develop and offer its technology.  GBB's Founder and CEO, Colin Ng, recognises that Hong Kong's supportive environment enables the acceleration of startups, and he is grateful that CityU HK Tech 300 programme offers a springboard for the company to fully take off and refine its innovative cell and drug delivery technologies.  Additionally, Hong Kong's close proximity to the GBA allows the company to expand at an incredible rate and help a market in need.
Advice for young startups
"Consider starting your company in ecosystems with great potential partners, such as the universities in Hong Kong, or places that can offer the necessary infrastructure, support systems, talents and investment opportunities.  Aspiring entrepreneurs should also feel encouraged to join innovation and entrepreneurship competitions – they are a great way to test your technology and business model with industry experts, spark your own creativity, and expand your network."
– Colin Ng, Founder and CEO of Greater Bay Biotechnology