TECH Talk: Unveiling Faculty Technologies for Entrepreneurship
10/02/2023 2:30pm - 5:00pm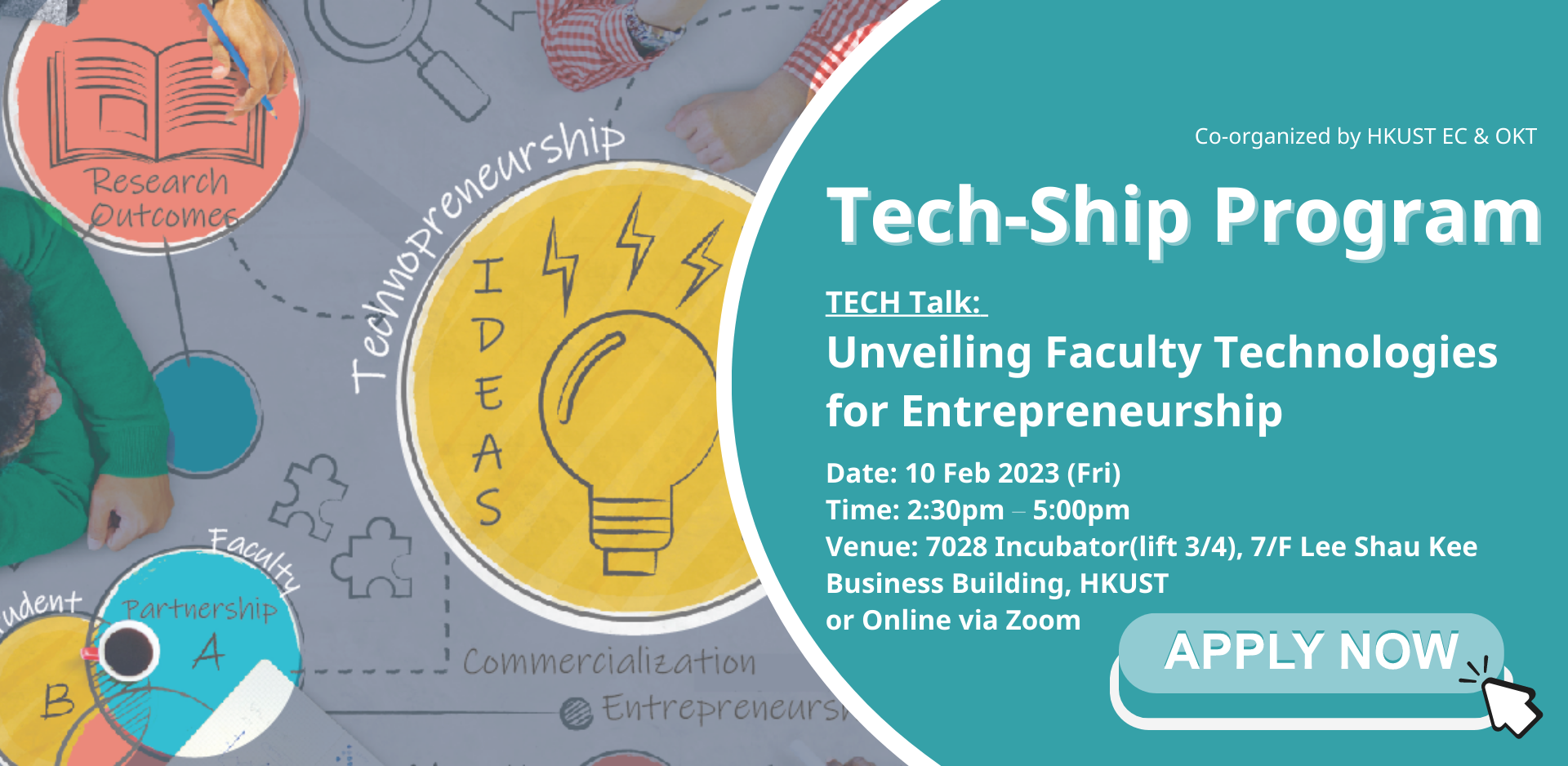 A new round of "TECH Talk: Unveiling Faculty Technologies for Entrepreneurship" releases now! As part of the Tech-Ship Program, which is a platform leveraging the wealth of research talents and outcomes at HKUST to bridge together faculty technologies and student entrepreneurship, the hybrid TECH talk will invite engineering/ science faculty members to introduce their technologies to HKUST community (students, faculty and alumni) who are passionate about exploring technology entrepreneurship opportunities. Successful matching will have a chance to receive seed funds up to HKD$200K to make your idea come true.
Speakers:
– Prof. Chen HAO, CSE: Trustworthy Artificial Intelligence for Medical Imaging and Analysis
– Prof. Hongyu YU, MAE: Enabling Next Level Interactive Experience for Metaverse
– Prof. Shi LING, ECE: Control and Robotics
– Prof. Jinglei YANG, MAE: Mulitfunctional Super-wetting Nanocoatings
– Prof. Levent YOBAS, ECE: Rapid High-resolution Size Separation of DNA and Proteins Through a Silicon Microchip
– Prof. Becki KUANG, CBE: Engineered Tail Sequences for Enhanced Protein Expression of Synthetic mRNA
– Ms. Connie LEE & Prof Mitch LI, ISD: An Integrative System for Food 3D Printing and Multi-level Cooking
– Prof. Frank LAM, CBE: Waste-to-valuable Materials
– Prof Ben CHAN, CIVL: In-situ Hydrogen Generation
Details are as follows:
Date: 10 Feb, 2023(Friday)
Time: 2:30pm – 5:00pm
Format: Hybrid
Venue: 7028 Incubator(lift 3/4), 7/F Lee Shau Kee Business Building, HKUST or Zoom
For registration, please click here before 7 Feb 2023.
For more details, please click Here.