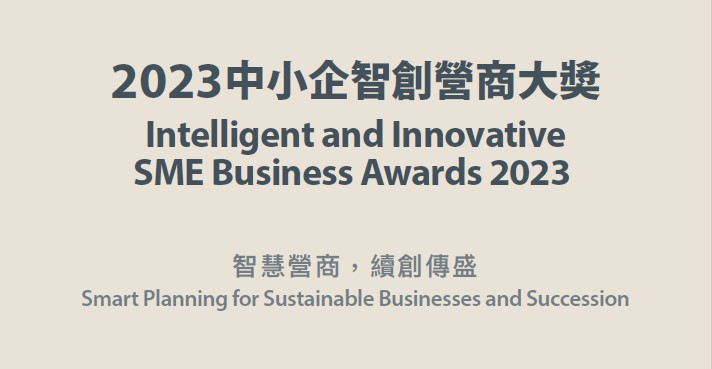 Intelligent and Innovative SME Business Awards 2023 aims to recognise outstanding SMEs and their business partners with their intelligent and innovative business strategies, and ultimately, encourage and foster the sustainable development of SMEs' businesses. Award Catergories includes Outstanding SME Award in Greater Bay Area, Outstanding SME Award in Sustainable Development (ESG), Outstanding SME Award in Collaborative Partnership, Outstanding SME Award in Digital Transformation / Technology, Outstanding SME Award in Start-up, Outstanding SME Award in Family Business Succession.
"Smart Planning for Sustainable Businesses and Succession" emphasises that in this digital era, companies must keep up with and adapt to the dynamic market environment, fully utilise the power of technology, and equip with effective operational strategies in order to enhance competitiveness and succeed in the market. Therefore, smart business has become a key element for companies to pursue sustainable development. Through innovation, technology, and operation in sync with the times, companies can better understand customer needs, maximise production efficiency, and create a strong and stable operational model, moving towards a sustainable business model. By constantly innovating and improving, companies can uphold, inherit and sustain their core values to embrace the future and challenges.
Benefit to Awardees
1. Company Name and Logo display on Intelligent and Innovative SME Business Awards 2023's Website
2.Awardees Logo will appear on different social media
3.Award trophy presentation
4.Result announcement and post event advertising on HKET
5.Event booklet with company description and advertisement
6.Presences of award presentation ceremony
Important Dates
Application Period: Now to 30 April 2023
Judging Period: Early-May 2023
Result Announcement: Mid-May 2023
Award Presentation Ceremony(Tentative): Mid-Jun 2023
For more details, please click here
Click Here for the application.