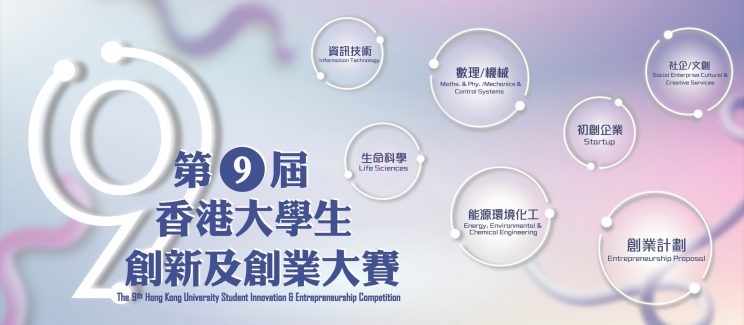 It's time for our annual highlight innovation and entrepreneurship event for higher education institutions! In our 9th annual competition, the winning innovation projects will form as a Hong Kong  representative team to participate the "Challenge Cup" National College Students' Extracurricular Academic Science and Technology Contest which is recognized as the "China Youth Innovation and Entrepreneurship Olympic" while the winning entrepreneurship projects will enter the China International College Students' "Internet Plus" Innovation and Entrepreneurship Competition and/or the "Challenge Cup" China College Students Entrepreneurship Competition, which are known as "The Best and Biggest Roadshow Platform Worldwide" and "The Biggest Platform of Chinese Young Entrepreneurs" respectively. 
The 9th Hong Kong University Student Innovation and Entrepreneurship Competition
Deadlines:
Application Deadline:31st Mar 2023 (Fri)

Project Submission Deadline:20th Apr 2023 (Thu)

Categories:
(I) Innovation Category (Research Thesis/ Invention);

((1)Life Sciences/ (2) Energy, Environmental and Chemical Engineering/ (3) Information technology/ (4) Mathematics and Physics/ Mechanics and Control Systems)

(II) Entrepreneurship Category ( (1) Entrepreneurship Proposal/ (2) Startup/ (3) Social Enterprise/Cultural & Creative Services)- (2-3) welcome cooperative projects of teaching staff and students

Project Areas: Manufacturing/Information Technology Services/Cultural & Creative Services/ Community Services/ Social entrepreneurship/ Modern Agriculture……etc.

Website:
www.hkchallengeplus.com
Apart from current students, for some categories of the competition, we welcome entries from graduates who have graduated for no more than 5 years as well as entries of cooperative projects by collegiate teaching staff and students.
For more details, please click here.