Creating A.I. Business Models in the New Economy
18/06/2020 7:00pm - 8:00pm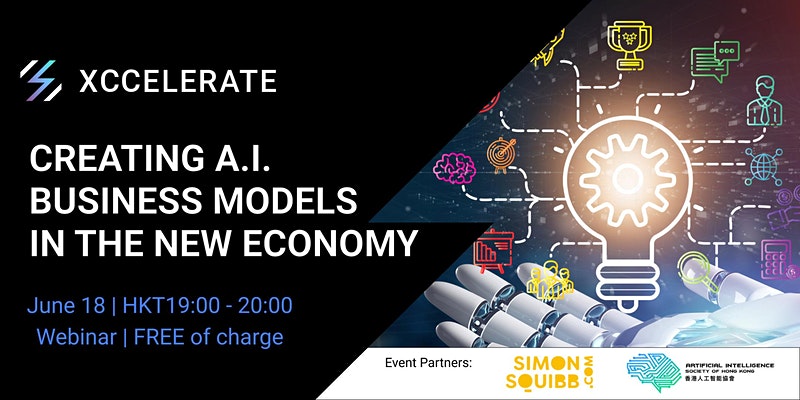 Sail across the Blue Ocean: Navigate the Business Models for AI Startups
When there is a thunderstorm in the global economy, many people choose to stay within the vessel of comfort to keep themselves away from the conflicts and competitions outside. Yet, there are few of them willing to throw away the life-jackets, courageously jump into the boundless "Blue Ocean" to navigate their unique way of life. We call these people "Entrepreneurs".
Artificial Intelligence seems to be a must-included element in the entrepreneurship of the future. However, even you are the expert in A.I. who understands the most advanced technology, do you have a feasible model to sustain your business? It's not enough to be successful with just knowledge, bravery, and vision. You need some pragmatic tactics to build an unsinkable ark for the prolonged voyage across the unpredictable Blue Ocean.
In exploring further, Mr Simon Squibb (serial entrepreneur and founder of Nest and Mettā) and Mr Lavine Hemlani (Founder & CEO of Xccelerate aka Vice President of AI Society of Hong Kong) are going to deep dive into the strategies on constructing the business models for AI Startups throughout a fireside chat on 18 June.
Who should attend?:
If you are interested in navigating the business models for AI startups and what steps you can take to better understand it, this event is for you.
About the Speakers:
Simon Squibb
Entrepreneur, Hong Kong based Angel Investor and host at the Good Luck Club Podcast.
Simon is a serial entrepreneur, angel investor, motivational speaker, podcast host and mentor. He has started 17 businesses, invested in over 65, and has mentored hundreds of founders. Having sold his award-winning insight-driven branding and digital agency, Fluid, to PwC, Simon now focuses on inspiring, motivating and guiding both budding and experienced entrepreneurs by sharing his personal experiences, insights, ideas and tips on his website www.simonsquibb.com and through his social channels and The Good Luck Club Podcast.
Date
2020-06-18 19:00-20:00
Location
Webinar
For more information, please click HERE.