Earth.Org Talks: An Online Conversation with Doug Woodring
12/11/2020 7:00pm - 8:30pm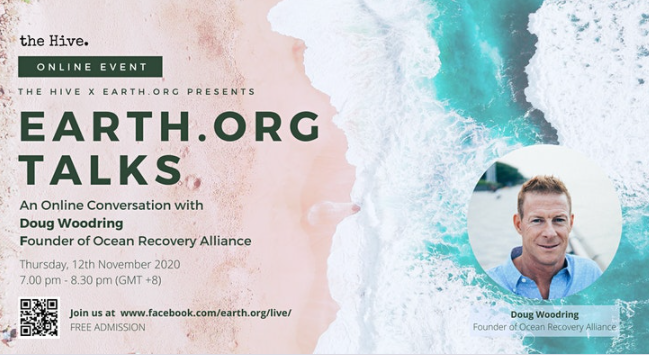 Join Earth.Org for an online conversation with Doug Woodring, a foremost expert on plastic waste in Asia.
About this Event
Doug Woodring is the founder and managing director of Ocean Recovery Alliance, a non-profit organisation aiming to bring innovative solutions for the protection of the ocean's health.
📍Where: Zoom Live Stream
His work on plastic pollution has had a global impact. His commitment and efforts have earned him the "Climate Hero" title from the United Nations Environmental Programme (UNEP). Doug is also currently part of the UNEP's Southeast Asia advisory team, SEA Circular. He is also an awardee of the Prince's Prize for Innovative Philanthropy and a leading expert in plastic pollution in Asia.
Earth.Org will speak to Doug about the health of the oceans during COVID-19 and how we can build a stronger "blue economy" post-pandemic through more effective plastic waste management and other innovative solutions.
📍Where: Zoom Live Stream
This will be a relaxed fireside chat; a 20 minutes interview followed by 40 minutes of Q&A with a small & engaged audience.
Topics we'll cover:
The future of plastic waste in the ocean post-COVID-19
Plastic waste management in Hong Kong
About Earth.Org:
Earth.Org is a global non-profit environmental organisation with headquarters in Hong Kong, raising awareness about biodiversity loss and the deteriorating conditions of natural ecosystems worldwide. Our purpose is to inform, educate and advocate for a more sustainable world.
For more information, please click HERE.