2020 Hong Kong Fintech Week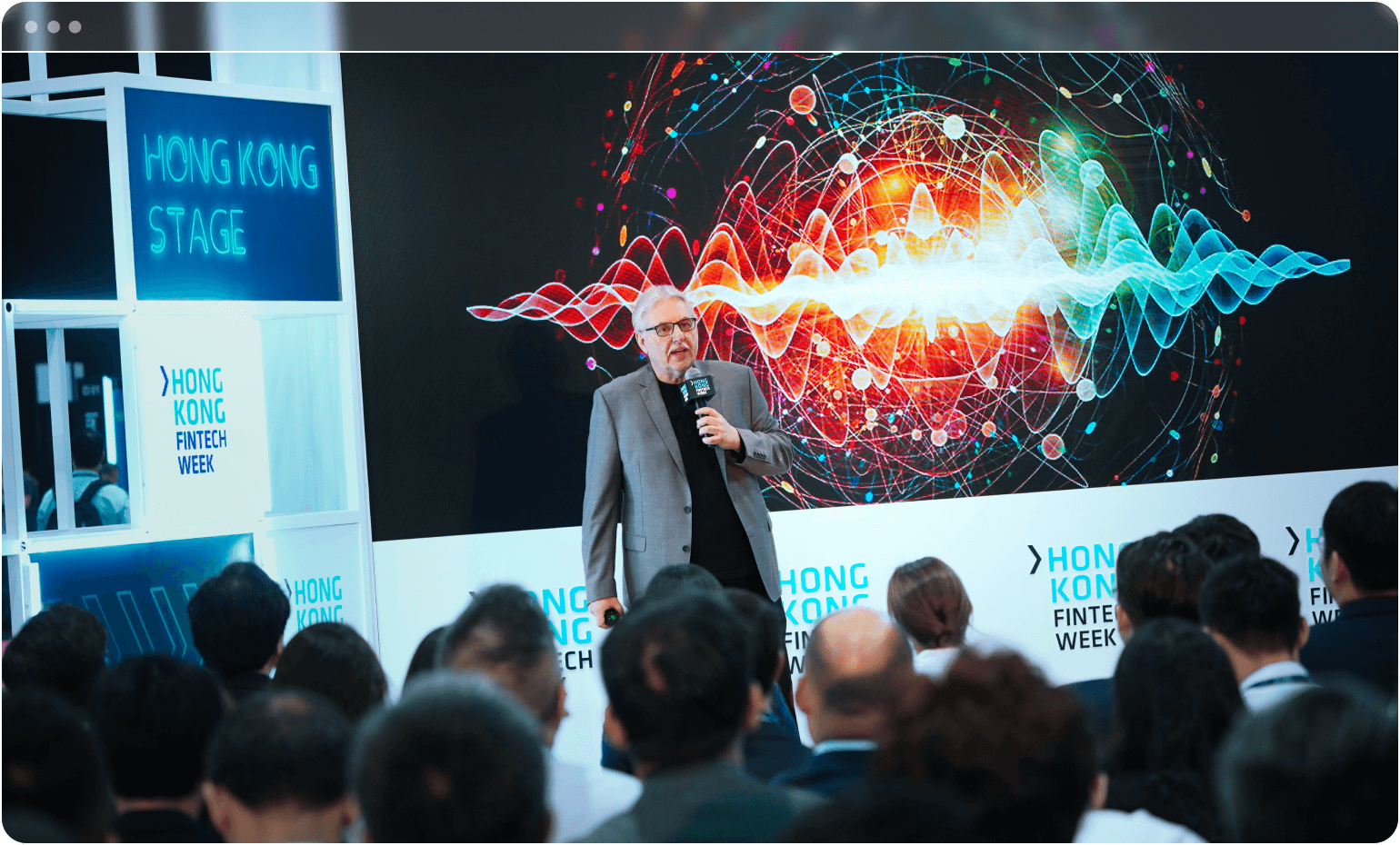 Transcending to a truly Global FinTech Event
2-6 November 2020
Online Event
Join Us Virtually From Anywhere In The World
In its fifth edition, Hong Kong FinTech Week will completely reinvent your previous event experience, providing you with access online from wherever you are.
Experience Our Digital Platform
Enjoy our live broadcast from 350+ speakers across all regions from the comfort of your home with a device of your choice. Break free from the boring and buggy webinars, no more zoom calls. Say hello to our new digital event platform and get access to our high-quality content without any boundaries.
Hear from China's TechFin Giants and Meet World's Top Virtual Banks
Meet the leaders of China's internet finance and be among the first to explore the opportunities to scale in China's Silicon Valley – Greater Bay Area region with over $1.67 trillion GDP.
You will also meet founders and top executives of Asia's and the world's leading virtual banks and learn from the force leading the digital banking revolution.
Hear From Established Banks and Insurers
Find out how the largest incumbents with over 100 years of trust, millions of customers and access to capital are responding to the competition. From adapting to changes and minimising the impact of disruption to accelerating rapid evolution into customer-centric 'incumbent challengers'.
Meet Asia's Virtual Banks and Digital Only Insurers
You will hear from founders and top executives of Asia's and the world's fastest-growing FinTech companies and unicorns, virtual banks and digital-only insurers, payments and lending innovators.
Deep Dive Into Innovative Tech Masterclasses
Explore dozens of FinTech masterclasses and workshops, hosted by the world's most innovative companies and technology providers in the industry.
Meet Our 300+ Exhibitors
Meet virtually with the most influential companies and fastest-growing startups. You can speak directly with founders and C-level executives from the world's most innovative and leading FinTech companies through our virtual platform.
Meet 300+ FinTech Startups From Asia and Globally
Get inspired by live demos from hundreds of fast-growing FinTech startups and scale-ups from around the world.
Networking Made Easy
Meet relevant people and achieve your business goals with our new AI-powered matchmaking event app. You will be able to meet with hundreds of potential buyers, clients, investors, startups and regulators.
Engage Your Colleagues With Our Group Pass
Bring in your team from junior to C-levels and get everyone up to date with 70+ hours of world-class content by joining our group package.
For more information, please click HERE.