Hong Kong International Computer Conference 2020
02/11/2020 9:30am - 03/11/2020 5:00pm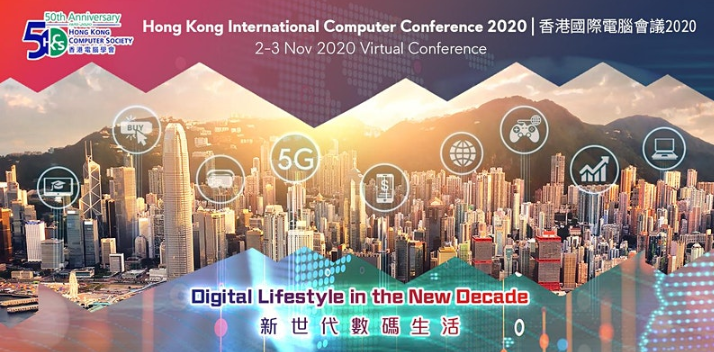 The Hong Kong International Computer Conference (HKICC) is an annual flagship event organised by the Hong Kong Computer Society (HKCS)
About this Event
The Hong Kong International Computer Conference (HKICC) is an annual flagship event organised by the Hong Kong Computer Society (HKCS) since 1978 and is one of the best and most popular ICT conferences in Hong Kong. It brings together ICT professionals and experts, government leaders and business executives from local and abroad to share and discuss the latest trends of ICT innovations and developments in enhancing business opportunities and productivity.
Digital Lifestyle in the new decade
2020 has proven to be an eventful start of a new decade. Many in the industry are now saying COVID-19 is the biggest advocator of digital transformation. It is, therefore, important for the practitioners of the IT industry to better equip with the latest information in digital transformation that will impact many areas of our lifestyle in this digital age. Attending HKICC 2020, you will be hearing from experts from different industries on how digital transformation is impacting their day-to-day life and work. This conference is a 2-day conference with keynote sessions in the morning and 2 parallel sessions in the afternoon of each day.
Highlighted topics:
Digital Life: everything-as-a-service
Digital Workplace: access from everywhere
Digital Commerce: bespoke services at mass scale
Digital Future: the smart devices of tomorrow
Who Should Attend?
CEOs, CFOs, CTOs, CIOs, strategists, trend-setters, innovators, entrepreneurs, IS managers, operation and marketing managers, academics, and executives from the government, business and anyone interested in benefiting from a thriving ICT industry.
For more information, please click HERE.