How to drive innovation at the enterprise level? | Xccelerate
15/07/2020 7:30pm - 8:30pm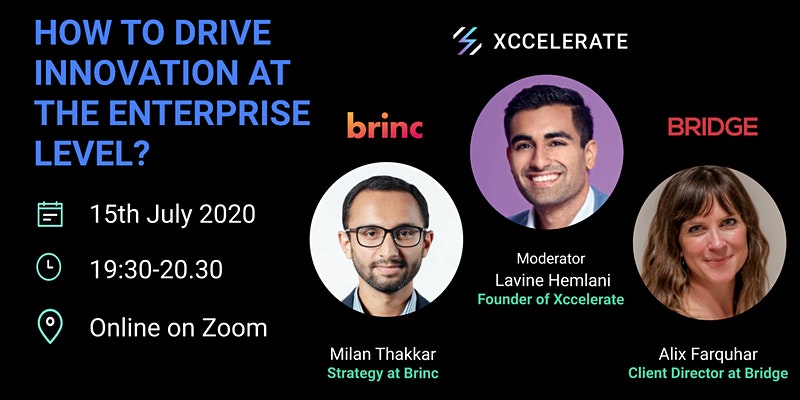 Innovation, as Steve Jobs said, distinguishes between a leader and a follower.
To be successful in today's fast-paced market environment it is crucial for organisations to acknowledge this truth and live by it. But how to build an organisation geared towards innovation? What obstacles are to be overcome to build a company culture that nurtures innovation?
Join Milan Thakkar from venture capital and accelerator Brinc and the founder of Xccelerate and Vice President of the Artificial Intelligence Society of HK, Lavine Hemlani in an exploration of what often holds innovation back at the enterprise level and what approaches can be taken to tackle these challenges.
Agenda:
Topic 1: The importance of corporate culture
How to promote a culture that supports innovation?
Topic 2: Challenges in driving innovation
What are factors holding back innovation?
How to work with stakeholders in an agile fashion?
Topic 3: Opportunities for driving innovation
How does Brinc work with their corporate partners to foster innovation
Problem-statement-definition approach
The impact of L&D
For more information, please click HERE.